#STATGivesBack Initiative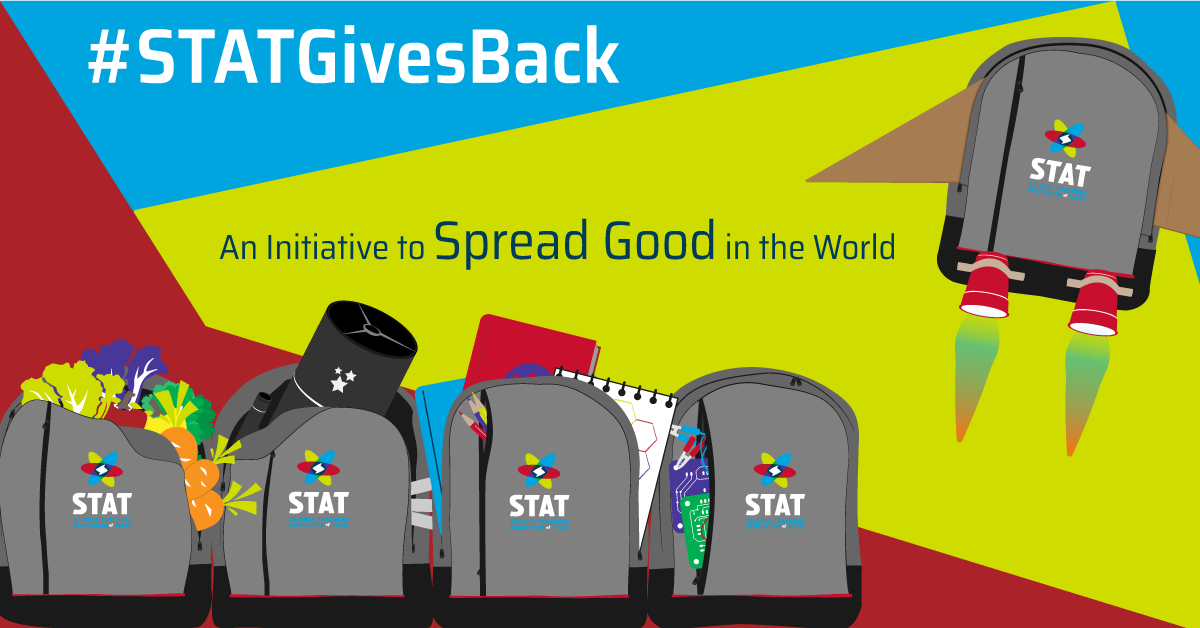 STAT is first and foremost a community—a community of more than 6,000 educators and science advocates dedicated to inspiring discovery of the world through science. The work STAT members like you do every day in Texas classrooms makes the world a better place.
Another Chance to Make a Difference
 Here's another opportunity to make the world a better place outside of the classroom. STAT has a limited quantity of backpacks remaining from the 2018 Conference for the Advancement of Science Teaching (CAST) that we are excited to share with you for only the cost of shipping and handling ($40/box of 30 backpacks). These backpacks were special because they were the first backpacks to feature the new STAT brand instead of being specifically tied to CAST. The STAT Executive Board decided it would be in keeping with the Association's mission to send these backpacks out into the world to make a difference in STAT members' communities. That's why we're inviting you to participate in the #STATGivesBack initiative.
Here's how it works:

Complete this form to let us know how you would use a box of 30 STAT backpacks. 

You could give them to the school counselor for kids in need, or donate them to a local women's shelter to help women and children escape dangerous situations, or pack them with nonperishable food items to send home with students who might otherwise go hungry. You could even share them with all science educators in your district as a show of STAT pride. Use your imagination!




A panel of STAT leaders will select backpack recipients.


If you are selected, STAT will ship you the backpacks at the cost of $40 per box. You may request up to three boxes of backpacks in your application. (Local pickup in Austin is available.)
We can't wait to hear your inspiring and imaginative ideas for these backpacks! Apply for the #STATGivesBack initiative by Thursday, Feb. 28. Recipients will be notified and invoiced for shipping the week of Monday, March 4.
Share this post: